Hunting Whitetail Deer in Northwestern Ontario, Canada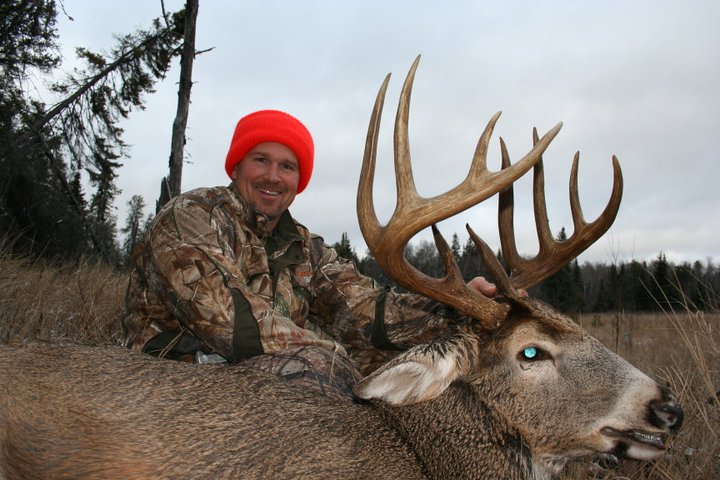 Camp Narrows Lodge, on Rainy Lake, Ontario, offers hunters an excellent opportunity for Canadian guided whitetail deer hunts. The Rainy River district of Northwestern Ontario, which we are located in the middle of, has miles of unspoiled wilderness to hunt these trophy whitetail bucks. Ontario deer hunting, has become very popular with hunters of all types. The resort, with the help of our guides, offers bow, rifle or primitive weapons hunting.
We offer American plan or housekeeping packages. As Canadian whitetail hunting outfitters, we strive to do our best to keep you in the prime areas for your trophy opportunity. Ontario is one of the hotspots for trophy deer. We offer two kinds of packages. One is during our early season (Oct). You are staying at the lodge. Here we offer tree stand hunting just off of Rainy Lake. The hunts start the second Saturday in October, and run until the end of October. We also have an archery season for two weeks before this. Tent hunts follow in November where you have a great chance at some trophy bucks.
Deer Hunting – Optional Packages
The other option for Ontario deer hunts is our tent camp. You would be camping off the logging roads just north of Fort Frances and south of Dryden. Campers or tents can either be brought or rented. These are guided hunts, away from other hunters. We are strategically situated in the prime area of Northwestern Ontario, for hunting deer. The area we camp is just minutes away from your tree stand area. Many square miles of cut over forest, that has just started to grow over is were we hunt here. Tree stands along the edges or just inside the bush line, along rub lines works the best in these areas. Trophy whitetail Canadian bucks love this kind of terrain. Both our packages offers the hunter a great Canada trophy whitetail hunts, as well as an awesome wilderness experience. You can also have a combo hunt. Add a duck hunting and/or Canadian fall fishing to your package. Those who can't see lake water without coming down with fishing fever can always maximize their visit by booking a combination deer hunt, with grouse or duck hunting or a fall Rainy Lake fishing vacation package. More information: group rates are available upon request. Taxes are not included, unless otherwise specified.
DEER HUNTING- HOUSEKEEPING PLAN

 Stand Hunting at resort
$2000.00+$260.00tx
$2260.00
 Tent Camp Hunts (trailers & tents)
$1800.00+$234.00tx
$2034.00 (after tax refund)
 with own trailer or tent (must get camping permits)
$1600.00+$208.00tx
$1808.00 (after tax refund)
American Plan add $565.00 per person
Ontario Hunting
Camp Narrows Lodge, is a boat-in resort, and can offer you access to acres upon acres of undisturbed wilderness lands. These vast tracts of undisturbed land allow our guests to use tree stands in locations that have rarely if ever been hunted.
Rainy Lake Fishing and Hunting
We have all types of Vacations for you. Starting at $565.00 / person/ week. Deer, moose, waterfowl, grouse and bear hunts also available. Just north of Minnesota, Rainy Lake fishing is some of the For reservations or more information on the camp please contact us. Before you visit us, it is important to preview Ontario's fishing & hunting regulations home page. At this site you will find everything you need to know about licensing, catch quotas and regulations.