Northern Pike Fishing at Camp Narrows Lodge on Rainy Lake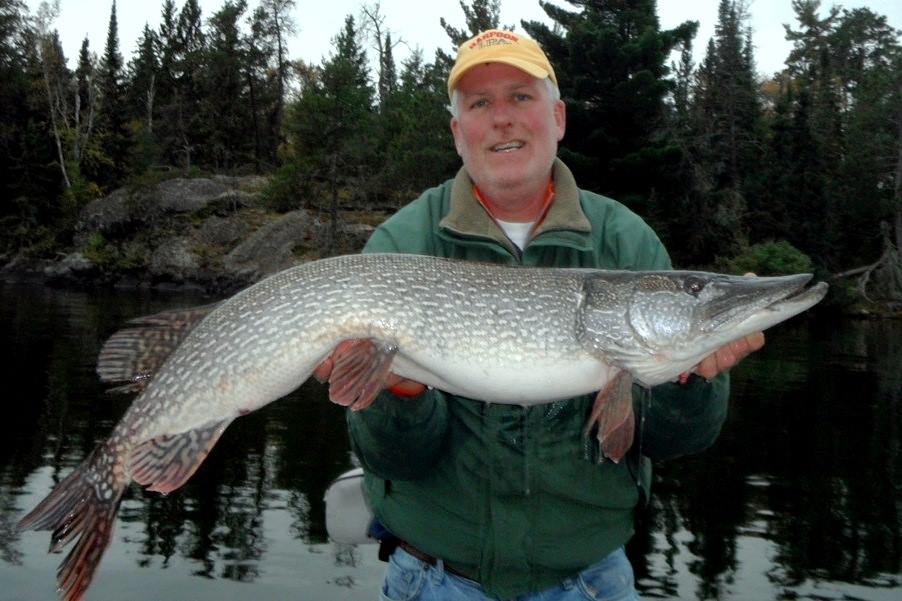 Rainy Lake, Ontario's northern pike fishing is some of the best found in Canada. Located in Northwestern Ontario, Camp Narrows Lodge, is one of the premier resorts on the Lake. Within minutes of the lodge, you can fish for trophy Ontario pike. If you wish, our Rainy Lake guide service can show you the best deep water points or weed beds to target for some awesome northern pike action.
If you prefer to fish on your own, we have Canadian navigational Rainy Lake maps and are very willing to mark the hotspots. Casting cranks, trolling almost anything and even flyfishing for pike are very effective ways to fish Rainy Lake. If you are looking for an awesome outdoor adventure, Ontario pike fishing on Rainy Lake can't be beat.
Rainy Lake has some of the best northern pike fishing because of it's diverse structure. It has many shallow weedy bays, very deep sections, many islands with shoals and long weed beds. The larger pike like to hang out just inside the weed beds that have deeper water just outside of them. Trolling along the outside of these is very effective. Since the introduction of smelt, we now catch many pike just trolling in open water. Just off the drop offs on any reef or shoal is also another great spot to target. These northerns are often deep bellied fish that weigh heavy on your line. Be prepared for a good fight!
If you are looking for medium or smaller ones just for some non-stop action, the weedy bays are full of them. If you are looking for a few to eat for a shorelunch, these are the places to fish.
We have a slot size on Rainy Lake. You must release any of the northerns between 27.5″ – 35.5″ . We also prefer that you release all of the trophy size one's 35.5″ and above. Replica's now are very reasonably priced and last longer. The slot size, combined with the smelts have turned Rainy Lake into a true trophy lake for Northern Pike.
FISHING-AMERICAN PLAN (minimum 3-day stay)

Includes lodging, meals, boat, motor and 1 tank of gas. per day,
per person.

with regular boat
$200.00+$26.00tx
$226.00/day
with Deluxe Boat
$225.00+$29.25tx
$254.25/day
with own boat
$150.00+$19.50tx
$169.50/day
Children under 16
$150.00+$19.50tx
$169.00/day
Housekeeping Plan: Bring your own boat + meals, $565.00 per person

Housekeeping Plan: With 1 week boat rental included – $1017.00 per person
Rainy Lake Fishing
Walleye, northern pike, crappie, whitefish, and smallmouth bass fishing can all be enjoyed just minutes from the dock. Our location has the remoteness of a fly-in, but is an hour's drive from the United States border. 
Rainy Lake Fishing and Hunting
We have all types of Vacations for you. Starting at $565.00 / person/ week. Deer, moose, waterfowl, grouse and bear hunts also available. Just north of Minnesota, Rainy Lake fishing is some of the For reservations or more information on the camp please contact us. Before you visit us, it is important to preview Ontario's fishing & hunting regulations home page. At this site you will find everything you need to know about licensing, catch quotas and regulations.