Slab Ontario Crappie Fishing on Rainy Lake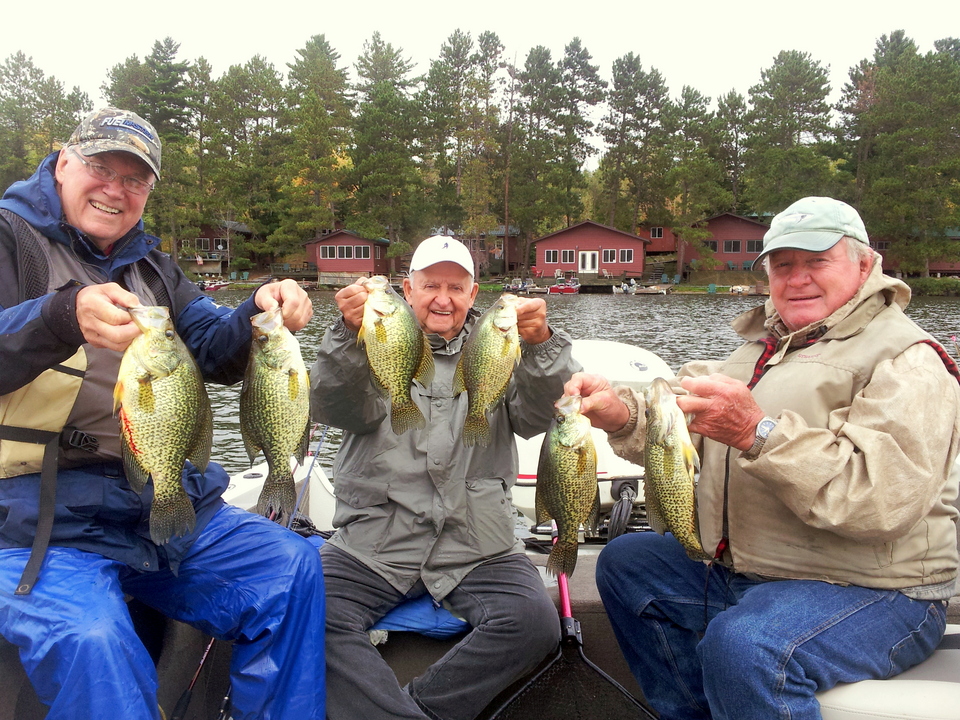 Camp Narrows Lodge, on Rainy Lakes, north arm offers Northwestern Ontario, Canada's premier crappie fishing. Located on the border of Minnesota and Ontario, Rainy Lake slab crappies are at the end of their northern range. We are located 1 hour east of Lake of the Woods. We have great forage in the lake, including smelts, which puts shoulders on these crappies. Truly Slab crappies in the 10 – 19 inch range can be caught right in front of the resort. Our resort is a boat-in, which brings you minutes away from the best area's. If you wish, our Rainy Lake guide service can show you the area's and structure of the lake and help you with techniques to catch these slab crappies. If you prefer to fish on your own, we have navigational Rainy Lake maps and are very willing to mark the hotspots. Spring or fall is the best time to come and catch crappies. We also have great walleye, northern pike, and of course Rainy Lake smallmouth bass fishing. Guided fishing is an option that is always available to our guests – let us help you catch more fish in a shorter period of time!
Spring or Fall, Rainy Lake Crappie Fishing is Awesome
Spring fishing for crappie is done in the shallow weedy bays. Casting small jigs or live bait on a bobber works very well. Flyfishing can also be done at this time. Rock piles and shallower shores are also great spot to catch these slabs. Fallen down trees or some of our secret brush piles, will also work for you. You also can still find a few in the deeper holes. Fall fishing on Rainy Lake is probably the best of the year. It is done in the deeper holes found in the lake. Minutes from camp, you can jig in the 20 – 40 foot depths and find the crappies in huge schools. This is when Rainy Lake fishing really begins to shine. We welcome you to come and experience some premium Ontario crappie fishing. Our guests come from Maine to Florida to California to Washington State, and most of Canada. We have combined over 35 years of our own fishing experiences with techniques we picked up from our many guests from all over the States and Canada. We encourage all of our new guests to come and talk to us or to have a chat with any of the guests in Camp. This way we ensure everyone is catching fish.
FISHING-AMERICAN PLAN (minimum 3-day stay)

Includes lodging, meals, boat, motor and 1 tank of gas. per day,
per person.

with regular boat
$200.00+$26.00tx
$226.00/day
with Deluxe Boat
$225.00+$29.25tx
$254.25/day
with own boat
$150.00+$19.50tx
$169.50/day
Children under 16
$150.00+$19.50tx
$169.00/day
Housekeeping Plan: Bring your own boat + meals, $565.00 per person

Housekeeping Plan: With 1 week boat rental included – $1017.00 per person
Rainy Lake Fishing
Walleye, northern pike, crappie, whitefish, and smallmouth bass fishing can all be enjoyed just minutes from the dock. Our location has the remoteness of a fly-in, but is an hour's drive from the United States border. 
Rainy Lake Fishing and Hunting
We have all types of Vacations for you. Starting at $565.00 / person/ week. Deer, moose, waterfowl, grouse and bear hunts also available. Just north of Minnesota, Rainy Lake fishing is some of the For reservations or more information on the camp please contact us. Before you visit us, it is important to preview Ontario's fishing & hunting regulations home page. At this site you will find everything you need to know about licensing, catch quotas and regulations.