Smallmouth Bass Fishing on Rainy Lake, Ontario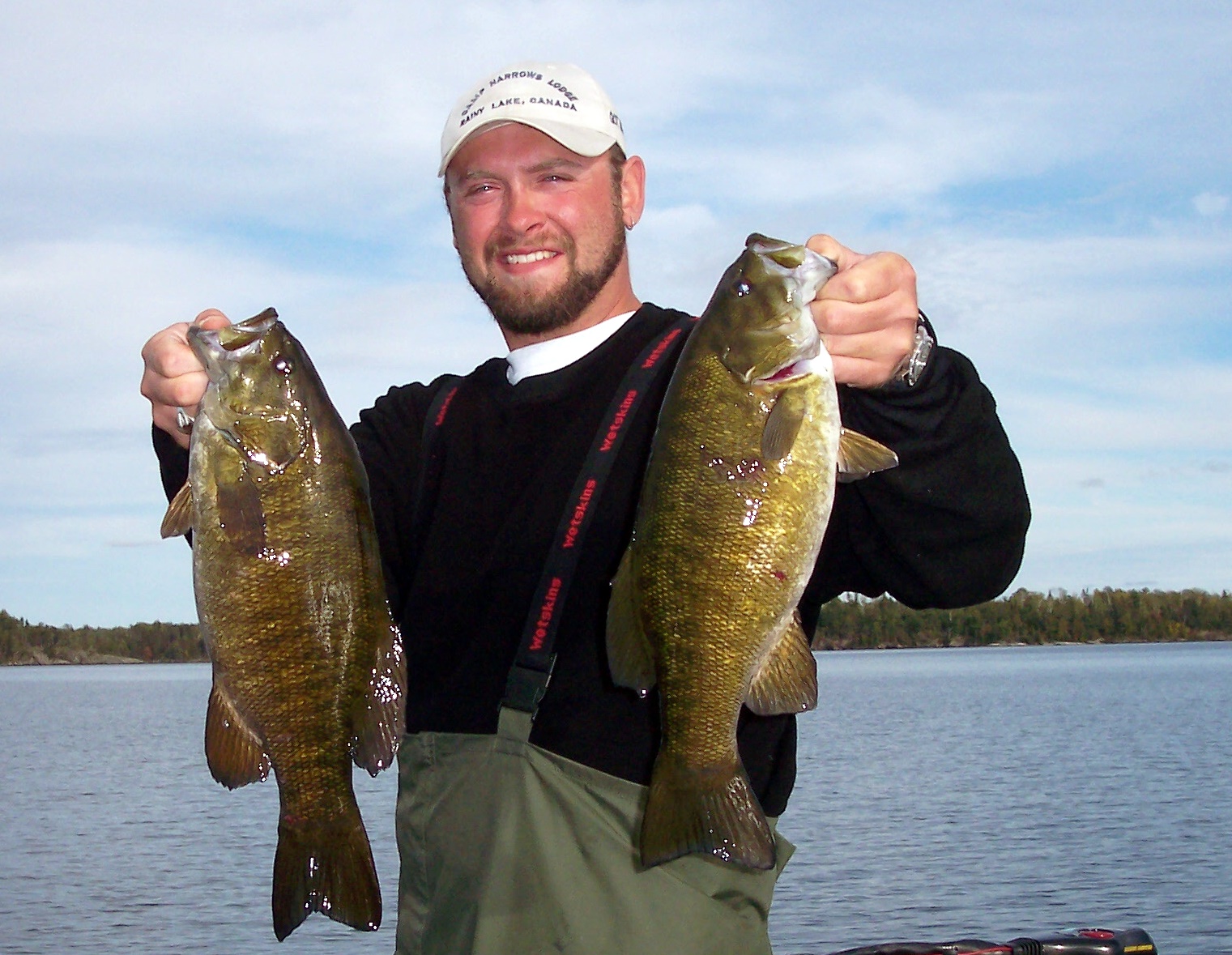 Rainy Lake Smallmouth Bass Fishing, Rated Amongst the World's Best!
Our resort is a boat-in, which brings you minutes away from the best area's on the lake. If you wish, our Rainy Lake guide service can show you the areas and structure of the lake and help you with techniques to catch these awesome trophy smallmouth bass. If you prefer to fish on your own, we have navigational Rainy Lake maps and are very willing to mark the hotspots. Casting, trolling and even flyfishing for bass are all very effective ways to fish Rainy Lake. Ontario smallmouth bass fishing on Rainy Lake is truly an avid fisherman's outdoor adventure.
Rainy Lake's smallmouth bass is some of the best in Northern Ontario, if not North America. The structure of the north arm of Rainy Lake is ideal bass habitat. Smallmouth bass fishing on Rainy Lake is truly an avid fisherman's outdoor adventure. There are hundreds of islands with baseball to basketball sized boulder shoals and reefs coming off of them. Large areas of cabbage and pencil weed along side these shoals and reefs create unbeatable habitat. Crayfish, bait fish of all kinds, and especially smelts are the main forage.
Spring fishing (pre-spawn) in May and early June is done off of any point or reef with some sandier areas in behind. The smallmouth bass congregate in water around 14′-18′ deep, waiting for the water temperature to warm up. This is the time when tube jigs and grubs work the best. Plastics can also be thrown to the shores.
During the summer months, the fish are found in many areas of the lake. Some school up and chase the smelts in the deep water's away from the structure. Other's can be found in the huge cabbage beds in shallower water. Depending on the weather of the day and evening, top water bites are awesome. Windier days weightless plastics or weighted tubes or grubs can be thrown towards the points or banks.
Fall fishing, probably the best of the year, is done on the sunken humps. This is when Rainy Lake fishing really begins to shine. The smallmouth school up in the hundreds. This is also the time of year when you really know what "fish eating smelts" is all about. The belly's on the fish are unbelievable.
FISHING-AMERICAN PLAN (minimum 3-day stay)

Includes lodging, meals, boat, motor and 1 tank of gas. per day,
per person.

 with regular boat
 $200.00+$26.00tx
 $226.00/day
 with Deluxe Boat
 $225.00+$29.25tx
 $254.25/day
 with own boat
 $150.00+$19.50tx
 $169.50/day
 Children under 16
 $150.00+$19.50tx
 $169.00/day
Housekeeping Plan: Bring your own boat + meals, $565.00 per person

Housekeeping Plan: With boat rental included – $1017.00 per person
Rainy Lake Fishing
Walleye, northern pike, crappie, whitefish, and smallmouth bass fishing can all be enjoyed just minutes from the dock. Our location has the remoteness of a fly-in, but is an hour's drive from the United States border. 
Rainy Lake Fishing and Hunting
We have all types of Vacations for you. Starting at $565.00 / person/ week. Deer, moose, waterfowl, grouse and bear hunts also available. Just north of Minnesota, Rainy Lake fishing is some of the For reservations or more information on the camp please contact us. Before you visit us, it is important to preview Ontario's fishing & hunting regulations home page. At this site you will find everything you need to know about licensing, catch quotas and regulations.
Catch & Release Policy
Our catch-and-release policy will ensure that Rainy Lake's, North Arm will continue to have a world-class bass fishery. We welcome you to come and experience some premium Ontario smallmouth bass fishing. Our guests come from Maine to Florida to California to Washington State, and most of Canada.