Cabin 4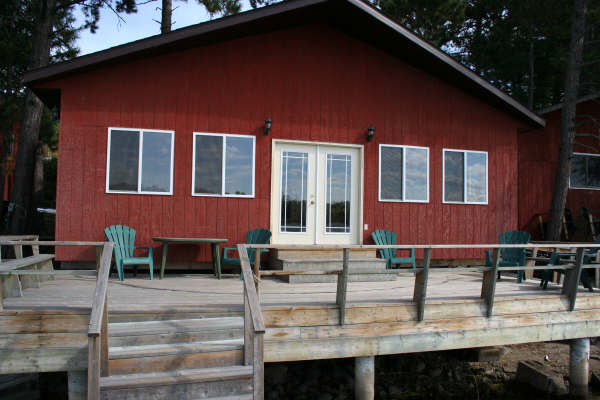 Cabin #4 is the largest cabin at Camp Narrows Lodge.  It is located right on the shoreline of Rainy Lake, and large windows in the front and sides of the cabin give you a panoramic view of Rainy Lake.  This Cottage rental sleeps 6 – 9 people and features:
Two large bedrooms, with 2 bunks in each room

A large cedar bathroom with tub/shower combo, between the bedrooms

All linens, towels, etc.

A very large living room kitchen space with a pellet stove for heat

A large electric refrigerator with freezer

A propane stove and oven

Pots, pans, and other kitchen utensils

Hot and cold running water

A very large deck attached to the front of the cabin that sticks out over the water

A dock with electric hookup is located right off the middle of the deck
Camp Narrows Lodge
Box 807, Fort Frances,
Ontario P9A 3N1
Year-round Phone: 807-274-2121
Toll Free: 1-866-294-5067
Housekeeping Plan
Includes lodging with stove, fridge, linen and utensils. Must book weekly, Saturday – Saturday. Cabin only, you must furnish your own boat.
Cabin Rate / Person
$500.00 + 13% tax
$565.00 / Person