About Us
Special!! Bring your own food and boat and get 7 days for only $565.00 per person….call Tom 1-866-294-5067
Camp Narrows Lodge offers you the opportunity to experience a unique outdoor fishing and hunting adventure at a boat-in resort, located in beautiful northwestern Ontario. Enjoy our unbeatable combination of first-rate accommodations and excellent smallmouth bass, walleye, crappie, and northern pike fishing. The lodge is strategically situated on Northwest Bay, right in the middle of the north arm, which is world famous for its unbeatable smallmouth bass fishing. Our catch-and-release policy on these bronze-backs will ensure that Rainy Lake's North Arm will continue to have a world-class bass fishery. On Rainy Lake you will find yourself surrounded by acres and acres of unspoiled wilderness. Camp Narrows is more than just a sport fisherman's paradise. Our lodge offers fall black bear and duck hunting, as well as whitetail deer hunts. If you are looking for the ideal spot for a family vacation, our camp is the place for you. Many fisherman return year after year to relax and enjoy a landscape virtually untouched by modern man, while comfortable at home in one of our deluxe modern cabins. To ensure that we meet your holiday needs, we offer everything from basic housekeeping plans to fully catered American Plan or corporate packages.
Rainy Lake, in the heart of Ontario's Sunset Country, is known for its trophy-size smallmouth bass, ample hunting territory, and for hosting the annual Canadian Bass Championship. Our lodge is in operation from May to October. All the facilities at Camp Narrows are fully modernized and offer a panoramic view of Northwest Bay. There is nothing quite like a Northwestern Ontario sunset. To begin the windup of your day, enjoy one of our fine meals while viewing the magnificent scenery from our glass-walled dining room.
The Ideal Place for a Family Holiday
Camp Narrows Lodge offers the family a place to relax and regroup. Our boat-in location ensures you access to pristine and undisturbed wilderness tracts. Rainy Lake is the perfect location for anglers of all skill levels. We recommend that you take the time for a few hikes on our acres of unspoiled wilderness. The flora and fauna of Ontario's boreal forest simply must be seen to be fully appreciated. Don't forget your camera! There will be opportunities to photograph some of northwestern Ontario's interesting wildlife. Swimming is always a favourite with our visiting families. We have a paddleboat or canoe available for your use to add to your recreational fun.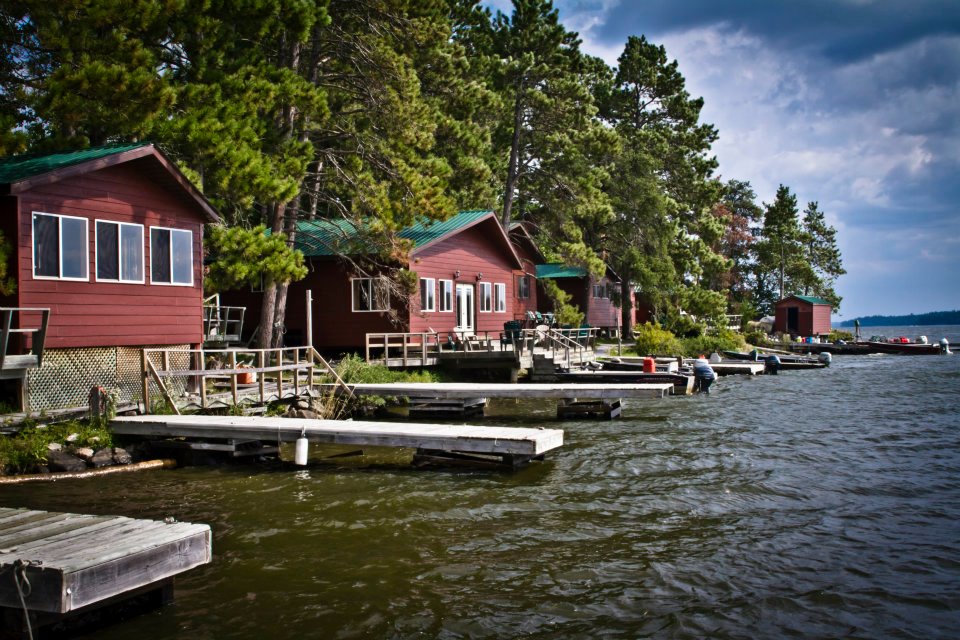 Camp Narrows Lodge
Box 807, Fort Frances,
Ontario  P9A 3N1
Year-round Phone: 807-274-2121
Toll Free: 1-866-294-5067
Rainy Lake Fishing and Hunting
Rainy Lake fishing at its best! No crowds, no traveling to catch Trophy walleye, Monster pike, bass and crappie. Fully guided Rainy Lake fishing trips or do it yourself. We have all types of Vacations for you. Starting at $565.00 / person/ week. Deer, moose, waterfowl, grouse and bear hunts also available. Just north of Minnesota, Rainy Lake fishing is some of the best around. Boat in lodge, Camp Narrows is away from the crowds and minutes to the best fishing!