Rainy Lake Fishing at Camp Narrows Lodge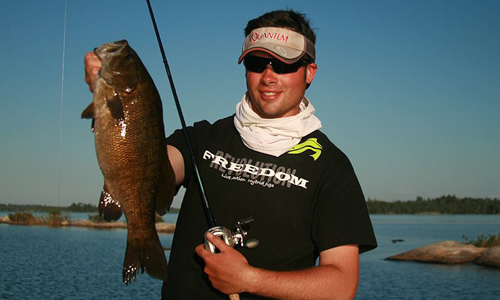 Smallmouth Bass Fishing
Camp Narrows Lodge, on Rainy Lake's north arm offers Northwestern Ontario's Premier smallmouth bass fishing. The structure of the north arm of Rainy Lake is ideal for smallie fishing. There are hundreds of islands with baseball to basketball sized boulder shoals and reefs coming off of them. Large areas of cabbage and pencil weed along side these shoals and reefs create unbeatable habitat. Crayfish, bait fish of all kinds, and especially smelts are the main forage.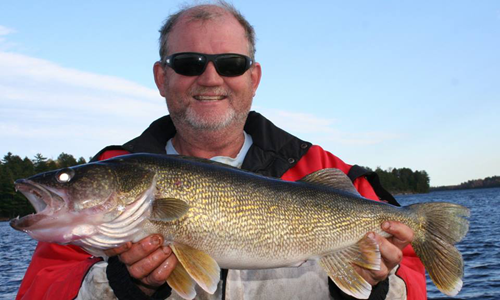 Walleye Fishing
Rainy Lake, Ontario's walleye fishing is some of the best found in Canada. Located in Northwestern Ontario, Camp Narrows Lodge, is one of the premier resorts on the Lake. Within minutes of the lodge, you can fish for trophy Ontario walleye. If you wish, our Rainy Lake guide service can show you the best deep water structure or shoreline points to target for some awesome walleye action.
Northern Pike Fishing
Rainy Lake has some of the best northern pike fishing because of it's diverse structure. It has many shallow weedy bays, very deep sections, many islands with shoals and long weed beds. The larger pike like to hang out just inside the weed beds that have deeper water just outside of them. Trolling along the outside of these is very effective. Since the introduction of smelt, we now catch many pike just trolling in open water. Just off the drop offs on any reef or shoal is also another great spot to target. These northerns are often deep bellied fish that weigh heavy on your line. Be prepared for a good fight!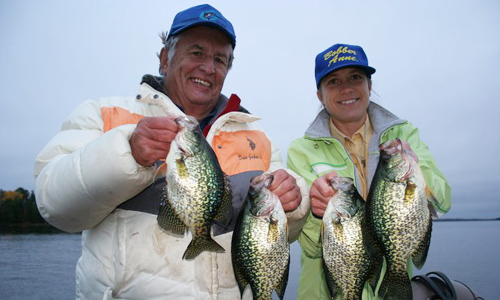 Crappie Fishing
Located on the border of Minnesota and Ontario, Rainy Lake slab crappies are at the end of their northern range. We have great forage in the lake, including smelt, which puts shoulders on these crappies. Thanks to the smelt population, truly slab crappies in the 10 – 19 inch range can be caught right in front of the resort. Spring or fall is the best time to come and catch crappies with Camp Narrows.
Fishing on Rainy Lake Ontario for Smallmouth Bass, Walleye, Crappie, and Northern Pike
Camp Narrows Lodge is located 25 miles north of the Minnesota/Ontario border. We are located in North West Bay on the North Arm of Rainy Lake, and just 20 miles west of Red Gut Bay. Camp Narrows is a boat-in resort and Fort Frances and International Falls are the nearest towns. We have 7 cottages that are 2 or 3 bedroom deluxe modern cabins with all the facilities you need.
Walleye, northern pike, crappie, whitefish, and  smallmouth bass fishing can all be enjoyed just minutes from the dock. Our location has the remoteness of a fly-in, but is an hour's drive from the United States border. If you would like to fish on your own we can mark all the hotspots on our Rainy Lake navigational maps. Otherwise our Rainy Lake guides can almost always guarantee amazing fishing.
Northwest Ontario's Rainy Lake is well-known for it's great smallmouth bass fishing as well as northern pike, crappie, and walleye. Located only 25 miles from the border with Minnesota, our camp, combined with Rainy Lakes' clean clear waters, have become the avid fisherman's dream location.
The cool, clear waters of Rainy Lake offer you an unparalleled angling experience.
Smallmouth Bass fishermen love our neck of the woods. We have a world-class fishery for bronze backs in our lakes so be prepared for some fast-action angling. Not to be ignored are the Northern Pike cruising the reefs and weed lines. These guys are fighting machines. Come and do battle with one of these wily warriors. The sense of triumph in landing a monster pike needs to be experienced to be understood. Many fishing fanatics rekindled the fever while landing themselves a trophy pike. Every year many 30 to 45 inchers are caught.
September and October are our crappie months. Late fall jigging in clouds of crappie will ensure a tasty meal. Many slab 2 lb. plus crappie are caught this time of year.
For incredible bronze back action try a fall trip. It may be cool but the fishing is hot! As the water cools down the smallmouth move up onto the reefs and stack up one on top of another. The fish all go on the feed. Rainy Lake's north arm is full of smelts. This baitfish puts shoulders on these bass. It is truly hard to say which is better: the size of the fish or the shear numbers caught at this time of year.
At Camp Narrows Lodge, to ensure that we sustain our world-class fishery, we have a catch-and-release policy for our smallmouth bass. Rainy Lake also has slot-sizes to protect our trophy pike and walleye. For meals or shorelunches we encourage our fishermen to eat small walleye, pike, or those tasty crappies. The larger fish, which are usually female, must be thrown back. With these policies Rainy Lake will not only sustain its world-class fishery but it will get even better for future fishermen like yourself.