Rainy Lake Fishing in Ontario Canada with Camp Narrows Lodge
Special!! Bring your own food and boat and get 7 days for only $565.00 per person….call Tom 1-866-294-5067
Camp Narrows Lodge offers you the opportunity to experience a unique outdoor fishing and hunting adventure at a boat-in resort, located in beautiful northwestern Ontario. Enjoy our unbeatable combination of first-rate accommodations and excellent smallmouth bass, walleye, crappie, and northern pike fishing. The lodge is strategically situated on Northwest Bay, right in the middle of the north arm, which is world famous for its unbeatable smallmouth bass fishing. Our catch-and-release policy on these bronzebacks will ensure that Rainy Lake's North Arm will continue to have a world-class bass fishery. On Rainy Lake you will find yourself surrounded by acres and acres of unspoiled wilderness. Camp Narrows is more than just a sport fisherman's paradise. Our lodge offers fall black bear and duck hunting, as well as whitetail deer hunts. If you are looking for the ideal spot for a family vacation, our camp is the place for you. Many fisherman return year after year to relax and enjoy a landscape virtually untouched by modern man, while comfortable at home in one of our deluxe modern cabins. To ensure that we meet your holiday needs, we offer everything from basic housekeeping plans to fully catered American Plan or corporate packages.
Location and Directions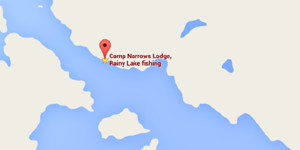 Welcome to Camp Narrows Lodge. We'll see you at the landing! The closest point into Canada is at International Falls, Minnesota, which brings you to Fort Frances, Ontario. From Fort Frances, you will be directed to the landing at La Belle's Birch Point Camp.
Rates and Packages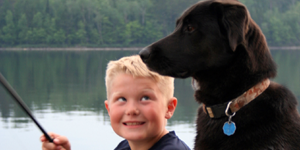 Camp Narrows Lodge offers hunters and fishermen affordable rates and weekly plans that won't cost an arm or a leg. Book your Northwest Ontario outdoor adventure. Let us help you hunt and fish for that trip of a lifetime.
Cabin Rentals

Camp Narrows Lodge boasts fully modern, deluxe facilities. Our lodge is in operation from May to October. All the facilities at Camp Narrows are fully modernized and offer a panoramic view of Northwest Bay.
Smallmouth Bass Fishing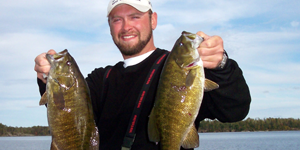 Rainy Lake's smallmouth bass is some of the best in Northern Ontario, if not North America. The structure of the north arm of Rainy Lake is ideal bass habitat. Smallmouth bass fishing on Rainy Lake is truly an avid fisherman's outdoor adventure.
Walleye Fishing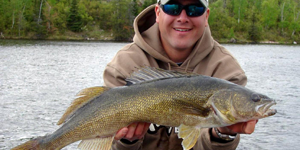 Rainy Lake is an incredible trophy walleye lake. The structure of the lake makes it ideal walleye habitat which consists of deep drop offs, sunken reefs, gravel shoals, and long healthy weed lines. Camp Narrows is located near Rainy Lake's best walleye fishing!
Northern Pike Fishing

Rainy Lake, Ontario's northern pike fishing is some of the best found in Canada. Located in Northwestern Ontario, Camp Narrows Lodge, is one of the premier resorts on the Lake. Within minutes of the lodge, you can fish for trophy Ontario pike.
Crappie Fishing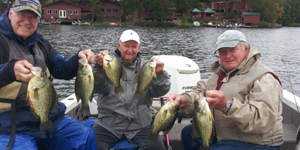 Located on the border of Minnesota and Ontario, Rainy Lake slab crappies are at the end of their northern range. We have great forage in the lake, including smelt, which puts shoulders on these crappies. Thanks to the smelt population, truly slab crappies in the 10 – 19 inch range can be caught right in front of the resort.
Fishing Vacations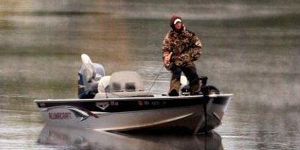 Northwest Ontario's Rainy Lake is well known for it's great smallmouth bass fishing and northern pike, crappie, and walleye. Our camp, combined with Rainy Lake's clean clear waters, has become the avid fisherman's dream location.
Hunting Vacations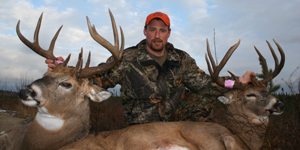 Camp Narrows is more than just a sport fisherman's paradise. Our lodge offers fall black bear and duck hunting, as well as whitetail deer hunts. We offer guided trophy whitetail deer hunts, that are complettely outfitted. The Rainy River District of Ontario offers a unique area to hunt whitetail deer, black bear, grouse, and waterfowl.
Rainy Lake fishing at its best! No crowds, no traveling to catch Trophy walleye, Monster pike, bass and crappie. Fully guided Rainy Lake fishing trips or do it yourself. We have all types of Vacations for you. Starting at $565.00 / person/ week. Deer, moose, waterfowl, grouse and bear hunts also available. Just north of Minnesota, Rainy Lake fishing is some of the best around. Boat in lodge, Camp Narrows is away from the crowds and minutes to the best fishing!